Once the clocks go back, the nights draw in and the evenings become colder, it's a sure sign that Christmas is on its way. The last thing that truly signals that Christmas is about to arrive is the launch of the annual John Lewis Christmas advert.
The emotive Christmas adverts are a source of highly anticipated entertainment that has left viewers with a soft warm feeling inside since 2011, but why is this?
High-Class Quality
John Lewis spends millions each year on their Christmas adverts to get it to the highest standard for their target audience, usually involving CGI, an acoustic singer to croon a new, breathy version of an old 80's classic, editing, and much more.
A Strong Narrative
John Lewis now has a reputation for creating Christmas adverts with a strong, emotional narrative. But what was the first John Lewis advert to see a spark in sales and envoke that warm, festive feeling we adore so much?
In 2011, came the first of many adverts to give viewers those 'festive-feels' - The Long Wait. This advert shows footage of an impatient young boy waiting for Christmas to come around to give his presents to his parents, sharing a simple but highly relatable story of how good it feels to give a gift to someone.
A recent emotional testing report by Realeyes - conducted by Artificial Intelligence which studied over 15,000 adverts - concluded that 'The Long Wait' achieved 8.8/10 for overall effectiveness. To put this into perspective, the study tests for emotional engagement, attention volume, and attention quality. These scores are then fed into an algorithm to determine overall rankings from a bank of over 15,000 ads, with the average score sitting at around 5.0. With 400 million YouTube views, the advert was also mentioned in more than 10,000 tweets and 190 blogs, with over 183,000 shares over seven days after the adverts were released.
Fortunately, for John Lewis, they also got to see a surge in sales. Leading up to Christmas It was proven that sales were up by 9.3% leading to £596 million. Their digital app also increased by 28% boosting the number of shoppers using its click and collect service.
Monty The Penguin
Another successful example was 'Monty the Penguin', which told the story of a young boy who has an imaginary friend which is a stuffed penguin (his favourite toy). On Christmas Day he received a penguin toy under his Christmas tree.
Monty The Penguin Statistics
Just like The Long Wait advert, the 2014 John Lewis Christmas advert led to an increase in sales - which were up 5.5% year on year, against market growth of just 1.5%. Meanwhile, having a record sales week, John Lewis took £175m for the first time in history.
For every £1 invested in advertising, the campaign successfully received a profit of £7.44, meaning a 3% increase year on year. Whilst Monty the Penguin was trending worldwide on Twitter, the advert successfully raised 349m impressions, an increase of 320% year on year.
Since then, John Lewis's long-awaited Christmas adverts have continued to grow in views. Now, often the first sign of the festive season, their ad sees many other brands now following suit in a bid to pull on the most heartstrings.
However - are the John Lewis Christmas adverts still proving to be successful for the company all these years later?
This year's advert was titled, Unexpected Guest.
The 2021 John Lewis Christmas advert is about a young boy who discovers a guest, a space traveller, who landed in the woods unexpectedly near the boy's home. Their friendship develops, from decorating a tree to treating themselves to mince pies. Later on, the girl sadly has to leave, the boy notices and runs to her spaceship, providing a Christmas jumper. And he, later on, receives a magical kiss.
The verdict? Let's just say that lots of people had mixed opinions on this year's advert… We headed over to Twitter to look at opinions people had towards the recent John Lewis advert, and we found some very mixed reviews: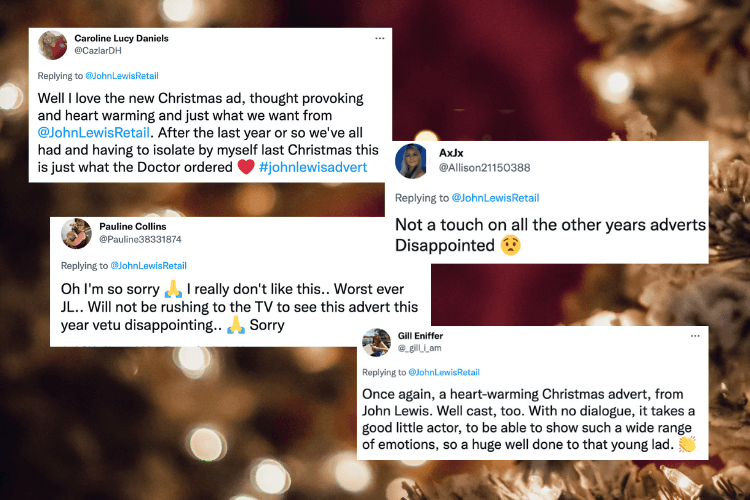 We asked the Friel flock what their opinions were on the John Lewis Christmas adverts;
Flo: "Personally, I would say that while the purpose of the adverts hasn't changed much, John Lewis now faces much more competition from other brands who are all fighting to have the most heartwarming advert and evoke an emotional response from viewers. In my opinion, this year's and last year's advert from John Lewis didn't really stand out for me in comparison to some of the others - I think it's pretty saturated, with every brand trying to do a similar thing. I absolutely loved the Ikea advert from 2019 - 'Silence the Critics', it was unexpected, funny, relevant and the grime song they decided to use was also super catchy, their advert from last year encouraged people to waste less food and save more around Christmas time."
Libby: "I believe, the John Lewis advert this year hasn't changed, especially with how it made me feel psychologically. The adverts throughout the years have always been very heartfelt and they always have a really sweet story that never fails to make goosebumps go up to my body. The way they portray their adverts shows that it's always important for love to be shared, which is what Christmas should always be about! My all-time favourite Christmas advert was the Apple - Share your gift advert."
Nai: "I think there is a lot of pressure on big brands to go all-out for their Christmas TV ads now. John Lewis has always led the pack and seems to be the most anticipated ad to look out for each December. There is always great hype around it and every year it gets people talking. The last couple of years have been a little disappointing to me personally, and other brands such as McDonald's, Asda, and Matalan have stood out instead. This year my favourite is the McDonalds Imaginary Iggy ad."
Nia: "I believe that John Lewis' types of Christmas adverts have changed but only so they stand out. They have to stand out as they were the starters of having Christmas adverts that tell a story and not just sell their products. Doing this allowed John Lewis to become the main brand that people look out for in terms of Christmas adverts. It is easy to see that other companies have been inspired by John Lewis and a prime example of this is this year's Aldi advert where they follow the character Ebanana Scrooge on his journey to loving Christmas. As a result of companies being inspired by John Lewis, it makes it harder for them to be original and therefore their adverts are becoming less popular. My favourite John Lewis Christmas ad would have to be "The Man On The Moon" as it really plays with my emotions and makes me thankful for everything and everyone I have around me."
In conclusion, the Friel team LOVE the John Lewis ads and their festive marketing campaigns every year. It's clear to see a direct correlation between their sales at Christmas and their adverts, however, with so many other brands now competing for what used to be a 'niche', John Lewis will certainly have to step up their game in the years to come.
Do you need to plan your very own marketing campaign? Get in touch with us today!


Let's take a trip down memory lane and revisit the John Lewis adverts throughout the years... which is your favourite?
Shadows: 2007
From Me to You: 2008
Sweet Child O'Mine: 2009
A Tribute To Givers: 2010
The Long Wait: 2011
The Journey: 2012
The Bear and The Hare: 2013
Man on the Moon: 2015

Buster The Boxer: 2016
Moz the Monster: 2017
The Boy and The Piano: 2018
Excitable Edgar: 2019
Give A Little Love: 2020
An Unexpected Guest: 2021