Every strong business has a strong brand strategy at its core. For those that don't – it's like going on an expedition to Everest without a map, you just wouldn't do it.
A brand strategy encompasses your businesses identity and its vision, and typically consists of three core elements; the visual identity, the 'voice' identity and lastly, the values that it represents. A great brand tells a great story, and a brand with strong values at the centre of its strategy helps to create a culture that employees want to be a part of, whilst also communicating and connecting with its target audience.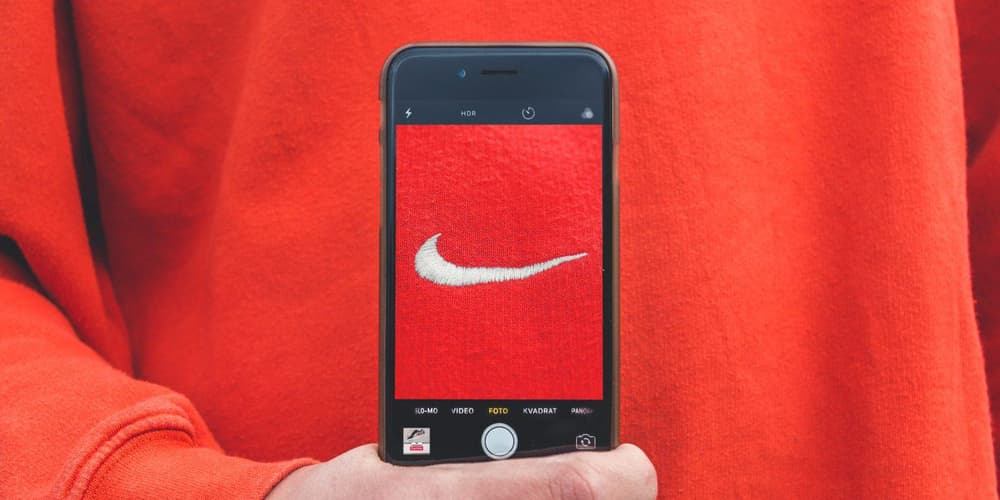 A brand can be defined as: "An organisation's promise to a customer to deliver what a brand stands for…. in terms of functional benefits but also emotional, self-expressive and social benefits."
Where to begin?
If you haven't already, it's time to do some soul searching. You'll need to establish what your brand represents, what your mission is, define your customer and competition, establish a tone of voice and a brand personality and most importantly, define your values. Friel covers all of this in our bespoke brand workshops, but for now we will focus on defining your brand purpose, personality and values.
So, what is a brand purpose?
A brand's purpose is the benefit it provides and may be an emotional or intellectual ideal that reflects the culture and motivation of the organisation behind the brand. A brand has the potential to represent an emotional quality that goes beyond the functionality of the product or service you are trying promote. While your vision statement looks at what your end goal is, your purpose represents the reason WHY your brand exists. If you're stuck on where to start, try listing bullet points on how your brand helps to make the world a better place.
How do I define my brands personality?
Getting your personality across in your comms is a great way to built on authenticity. It also helps your marketing team to clarify what your tone of voice is and how you'd like to communicate with your audience.
Now, let's imagine your company as if it were a person. Think about its personality traits… is it creative, adventurous, empathetic, serious, academic, corporate, etc? It's easy to want to be everything, and on paper it may sound great. But, it's important to be realistic and define the traits that best represent your brand. By trying to be a jack of all trades, you'll inevitably be a master of none in the process.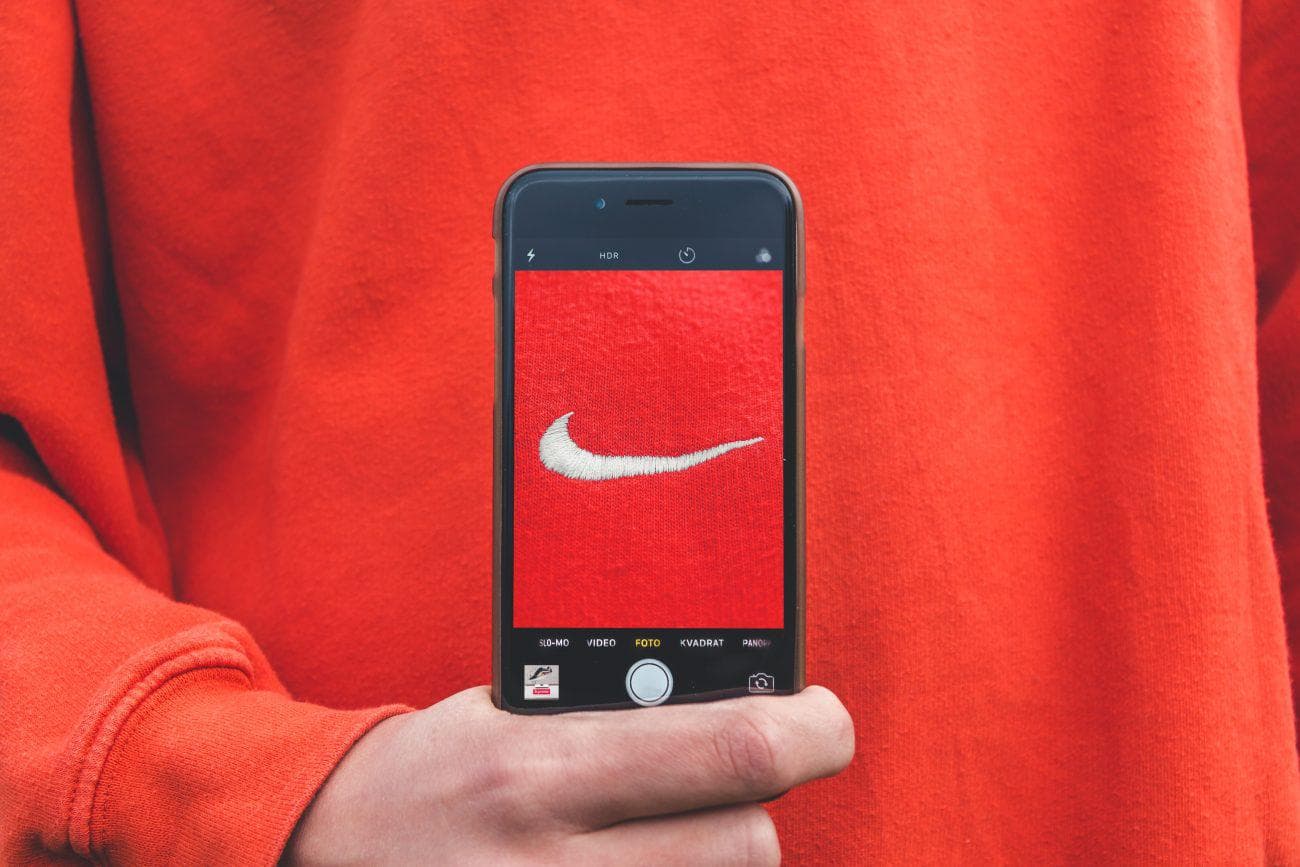 For example, we might say that Friel's personality is similar to James Corden – he's funny, likeable, professional, approachable and doesn't take himself too seriously!
How do I establish my brand values?
Brand values are one of the important components of your brand strategy – they are the gravitational force that pulls every element of your business together, from your company culture to how you serve your customers and clients. It involves defining a set of core values and principles and then promoting them in everything you do, both internally and externally. Your values encompass your personality and your purpose, and should be a direct reflection of how you wish your target audience to perceive you (your proposition). If you're not sure where to start on defining your brand values, then try making a list of what qualities that you believe your brand stands for and represents.


Case Study: Patagonia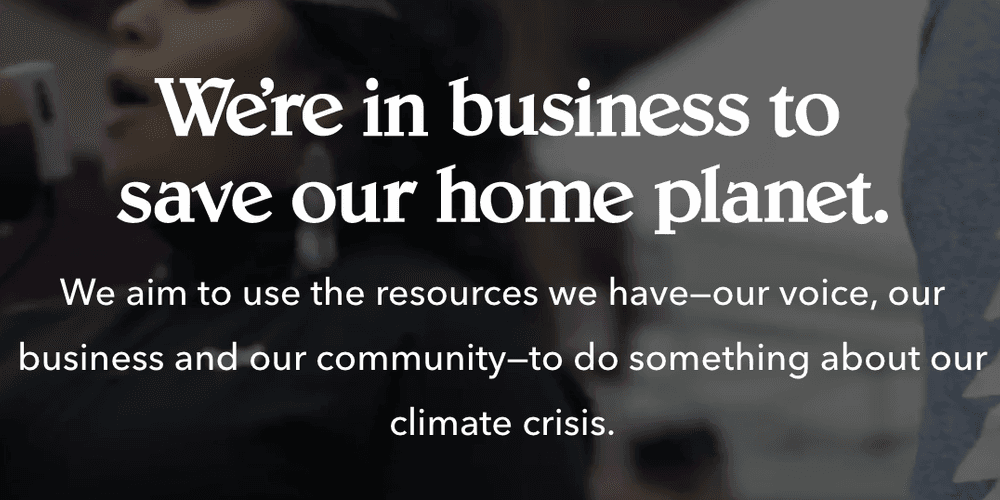 Patagonia is example of a successful business with its core values at the centre of its strategy.
Specialising in mountain equipment and activewear for the great outdoors, Patagonia was founded in 1973 by French Canadian and grandfather of alpinism, Yvon Chouinard. The company stands as a role model to others for its powerful brand strategy and message. Its core value is protecting the environment, which resonates loudly through all of its marketing and actions.
Since 1985, Patagonia has pledged 1% of its sales to the preservation and restoration of the natural environment and have given away $90 million to grassroots environmental activist groups in their efforts to tackle climate change. What drives the company is what started it; Yvon Chouinard's love for the great outdoors.
In 2011 on Black Friday, Patagonia released its most famous advert yet; 'Don't buy this jacket' which was targeted to stop fast fashion. Patagonia marketed its message and created a campaign that both supported its ethics and promoted its long-lasting wear, with the promise to provide free lifetime repairs to all its clothes.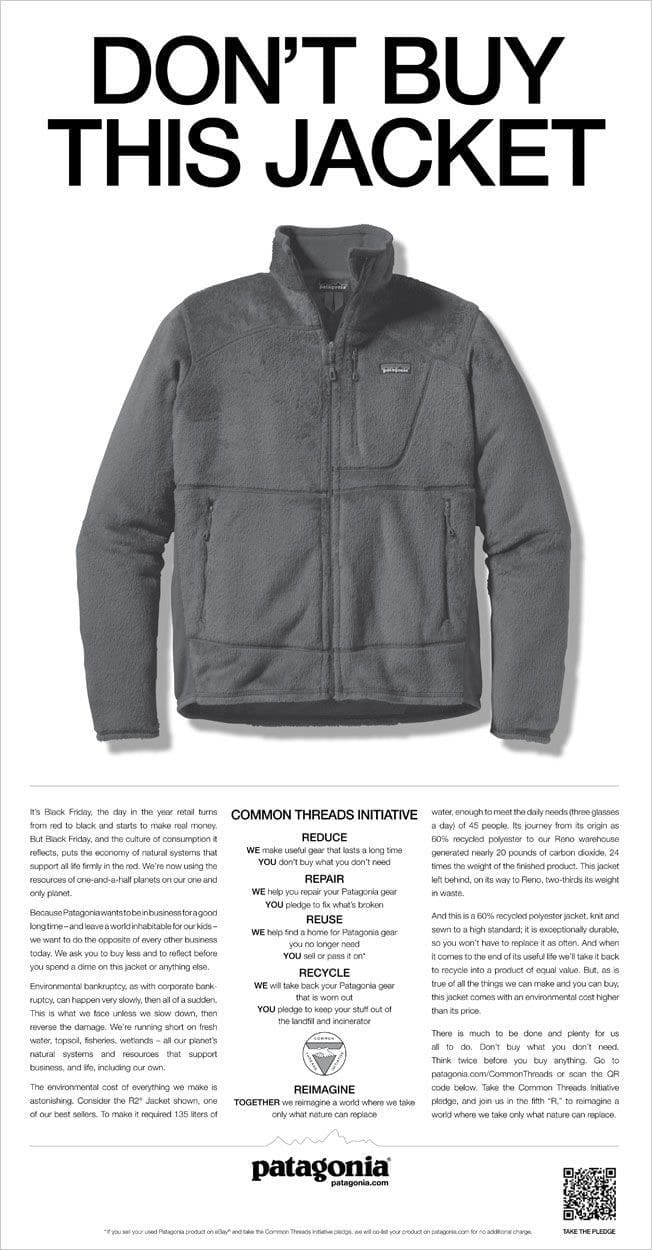 It's grown from a mountain equipment and clothing company to a multi-media outdoors brand that promotes adventure, sponsors athletes and films, produces award winning visuals and continues to support the environment. As a brand strategy, it is one of a kind, repurposing its ethics for marketing, forming a full circle from start to finish. To find out more about Patagonia's business model, read 'Let my People Go Surfing: The Education of a reluctant businessman'.
If you want help creating a brand strategy, please contact Friel on [email protected] or 01473 684192 or visit our website to find out more at www.frielgood.com.